"Butchie" Is Ready to Deliver!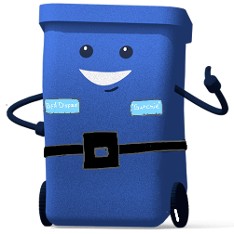 Dump Trailer Rentals
We want to help you with your larger projects too! Home remodeling to an entire household clean-out, we can help! We have Trailers to rent for the "Do It Yourselfers" Or we can bring it and load it for you the same day. Your contractor wants to charge you a huge fee for removal? Call us first, we might be cheaper!
---
3-7 Day Rental Periods
Easy as 1,2,3! We bring the trailer to you. We Place it where you choose. You fill it on your schedule. Need it longer? For a small extra fee We can usually accommodate a longer booking if all trailers aren't completely booked. If you have filled it and would like us to empty it and bring it back, we can do that for a discounted second immediate rental.
Contact Us For More Information or Set Up A Rental